Seattleitte is a real word according to urbandictionary.com, and after seven months of living in the Seattle area, I'm officially calling myself a Seattleitte. Now it's true that I don't actually live in the city of Seattle, but I live within a short driving distance to it, <20 minutes w/o traffic.
I'm still amazed that I live so close to Seattle. Only a year ago it wasn't even on my radar of places to live. It wasn't until late Fall 2012 that Jon and I even considered wanting to live in the Pacific Northwest. Now that we are here, I can say with 100% certainty that I absolutely love it.
I think what I'm most proud of, and I say that humbly, is that Jon and I have done so many fun activities since moving here. We have tried to do one new thing every weekend, and while that hasn't always been possible, it has motivated us to really see and experience our new city and region. I thought it would be fun to blog about all the fun places and things we have done since moving here! Here goes:
- Pikes Place Market. Have visited this place several times, in fact, I have lost count. I hated it at first. I didn't get what all the fuss was about and hated how crammed all the parking always is and the "city feel" to it. But the more I have gone to the market, the more I have grown to really like it. There are some sketchy areas to stay away from, and I don't like to be there after 5pm, but I have grown to enjoy looking at the handiwork from local artists who sell their things at the market, picking up bouquets of fresh flowers from the flower vendors, and trying delicious new, ethnic foods throughout the market. One time we even saw a humpback whale a few hundred feet off shore from there. Pretty awesome! I even know how to drive to there now without putting it into my GPS! I feel like such a local ;-)
-Washington State Ferry. So I've only been on the Bainbridge Island ferry. Twice. Is that bad? I want to take the Vashon Island, Mukliteo, and San Juan island ferries someday soon. Bainbridge Island is a quant little town with fun shops and the most amazing cafe with the most delicious gluten free turkey and chipotle pesto sandwich ever made. That sandwich is one of the main reasons Jon and I went back to the island. True story. This ferry line also offers a beautiful view of Mt Rainer on a clear day and on one trip we either saw orcas or porpoises in the distance. It was too far away to tell. But so awesome!
-Pt Defiance. So I haven't gone to the zoo and aquarium yet, but Jon and I did take the 5 mile scenic drive around the park and it was breathtaking. The views are just spectacular. The reason we were there was for a whole different adventure: whale watching. That's right, orcas were spotted along the southern end of Vashon island via the Orca Network, so Jon and I hopped in our car with Molly and Tatum and drove down to Tacoma in hopes of seeing the pod of orcas. We watched from the shore for several hours but never saw them. Totally worth the adventure though!
-The Space Needle. So this one I did with my mom when she visited us earlier this summer, but unfortunately Jon hasn't gotten to see this Seattle landmark yet. Hopefully soon. The ticket prices are astronomical, but the views are worth it.
-Chittenden Locks in Ballard. Watched the boat locks that allow boats to pass from the Puget Sound into Lake Union and eventually into Lake Washington.
-Golden Gardens. This is a beautiful, large beach right in the heart of metro Seattle, near Ballard. Jon and I spent an evening here enjoying a picnic and whale watching. Orcas are sometimes seen passing by this section of shoreline in the Puget Sound as they make their way south in to the smaller inlets of the Sound.
- Edmonds Beach. There is an awesome dog park here, and a large shoreline perfect for relaxing and enjoying a picnic at.
-Mukilteo Beach and lighthouse. Jon and I have been here on several occasions now. It's not as nice as Edmonds, imo, esp in terms of the views, but it's a larger beach and has much more to offer.
-Seattle Aquarium. Worth seeing once, but it's more fun to see harbor seals on the beach than at the aquarium, especially when it's fairly common to see seals around here.
-Woodland Park Zoo. So fun! Right in the heart of Seattle, definitely worth seeing.
-University Village in the U-District. Just north of the UofW campus, this is a a semi upscale, outdoor shopping center that is really fun on a nice, sunny day.
-Snoqualmie Falls. So spectacular.
-Rattlesnake Ridge. Hiked this one with a relative of mine who lives nearby. The views at the top are worth the ~4 mile hike.
- Twin Falls. Hiked this one twice, one of our favorite hikes as it follows the river for most of the hike and then after some serious incline hiking brings you to two amazing waterfalls.
-Wallace Falls. Similar to Twin Falls, but a bit tougher of a hike. Picked blackberries on our way back down the trail on this hike!
- Took a leisurely drive about an hour east along Interstate 2 and the Skykomish River. Beautiful scenery.
-Snohomish. Walked around the little town of Snohomish and then stopped at some u-pick farms to get fresh vegetables.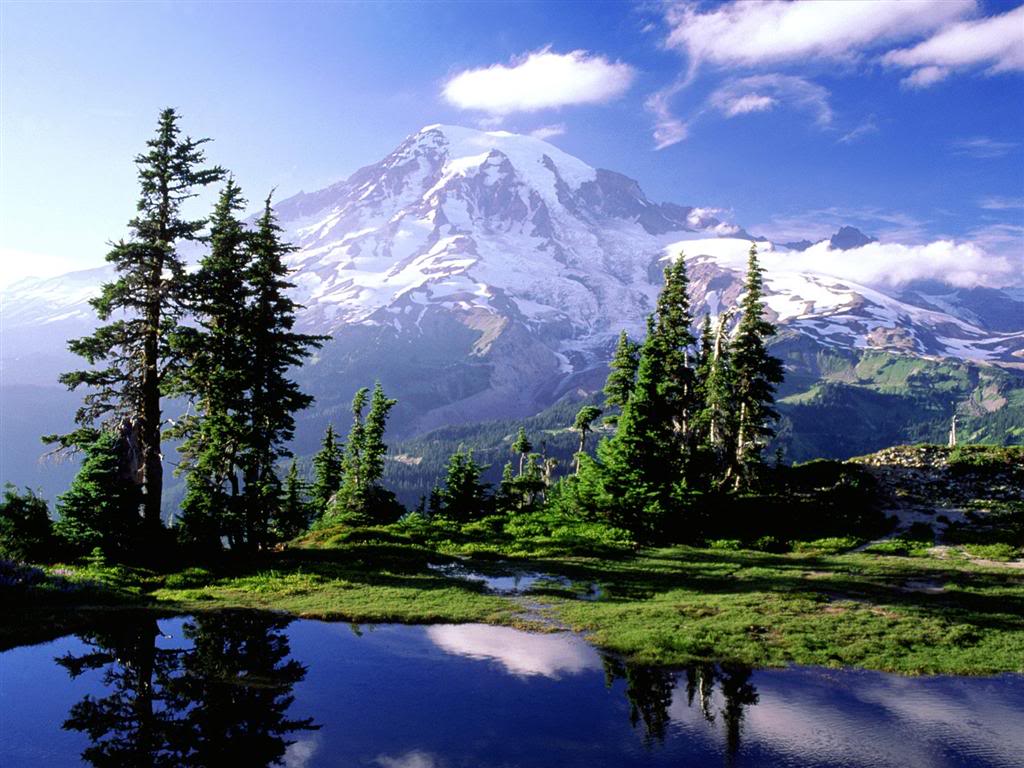 -Mt Rainier. Actually went camping here a few months ago. You can see Mt Rainier on a clear day from many places near Seattle and the Eastside and it never fails to amaze me. Up close it is even more spectacular. Did a little light hiking at Mt Rainier, but mostly just enjoyed staring up at this huge volcanic mountain.
-Lots of bike rides along the Sammamish River Trail.
- Museum of Flight. Spent 4 hours there, could have easily spent a whole day.
-Lake Washington. So much to do here, this is one of my favorite places, particularly near Kirkland. Jon and I have been able to try SUP and have even kayaked twice. It's one of my favorite places to revisit often. As in like once a week. Seriously. Otherwise I go through withdrawal.
So those are the main attractions/activities we have done, but we also try to do a lot of smaller activities, too. Like check out new parks, walking trails, shopping centers, coffee shops, etc. Our "one new thing a weekend" isn't always something grandiose Sometimes it's as simple as going for a bike ride on a new bike path or visiting a new farmers market.
Another thing that is new to me is the concept of seasons. I love it! As summer starts to come to a close here in the PNW, I'm excited to see what activities and adventures fall will bring!
Happy Labor Day,
~KJY