I can't believe it's already March 11th...it means that we have been living here for almost a month already. While we still have yet to find a house, we have been keeping busy with a lot of sightseeing in our own city. Sticking to our goal of experiencing one or two new places each weekend, we have discovered a lot of new, awesome places within miles of our apartment.
On Saturday, we drove out to a beach on the Northwest side of Seattle and soaked up some much needed sunshine. The sky was bright blue and the warm sun rays were much welcomed after many days of rain and clouds prior to Saturday. Tatum enjoyed playing in the ocean waves with some other doggy friends and afterwards Jon and I enjoyed a picnic lunch at a nearby park that overlooked the Puget Sound. We watched the ferries go by and listened to fog horns in the distance. We thought we may see gray whales as their migration season is just beginning, but didn't have any luck. Hopefully next time.
Later that evening we walked around Downtown Kirkland, without the dogs this time. The marina beach was packed with people enjoying the sunny day and it was fun to stroll along the streets while window-shopping and oohing and aahing over fancy water-front mansions. Kirkland is a beautiful place to live, I just wish it wasn't so expensive!
On Sunday we enjoyed meeting up with an old college friend for brunch in the Ballard district of Seattle. After brunch we walked over to the Chittenden Locks and watched the boats pass through from the Puget Sound over to the lake. It was really neat! I've only ever read about boat locks in school books, so seeing them in person was quite impressive.
I took a few pictures but the quality isn't great. You can get a better idea of what the locks look like from a picture off the Seattle District website: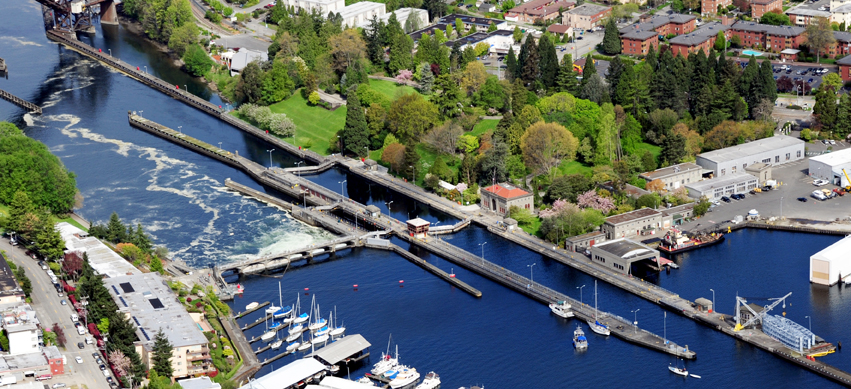 Here are some of my own pictures I took:
The incoming small boat lock
You can walk across the top of the lock, but when a boat passes through after the lock fills up this walkway opens for a few minutes while the boat passes through. Pretty cool.
Watching a ship in the lock as the water rises to meet the water level of the lake
The fish ladders
The ship
The gates opening to let the ship through from the Puget Sound to the lake
Another view of the lock
We had sun on Friday and Saturday but we are back to cloudy skies and rain for the next few days.
Happy Monday~